Live report Glaz'art w. Tristania by Sonic Cathedral
Tristania - Live in Paris - Glaz'art
Written by Max Levites
Sunday, 23 September 2012
Tristania – Live in Paris
September 18 – Glaz'art
There are many things that are better in Europe than in the US. Chiefly among them, for me at least, is the music scene. Since about 90 percent of what I listen to comes from Europe, I normally have to wait for bands to become big enough to tour the States, and more frequently, I end up mentally drooling over a dream lineup touring around Europe, so incredibly far away from where I live. This time, however, things are different. I finally find myself on the other side of the pond, the European metal scene as my oyster. As my awful luck would have it, I'm missing Nightwish, Kamelot, and Epica touring the US this fall, but at least I finally got to see Tristania, a band that has long been on my must-see list. And the icing on the cake? Supporting these gothic metal legends are two other female fronted bands, Sarah Jezebel Deva and Fenrir. Though neither band was a particularly big blip on my radar (I had never even heard of Fenrir), I was excited to see what they had to offer.
First up, though, was a male-fronted Italian band by the name of Sound Storm. I had never heard of them either, but my colleague Allyson Kenning assured me that she was plenty jealous that I got to see them (and all the other bands on this list), so how bad could they be? Well, they weren't just not bad, they were pretty damn good, and despite lead singer Philippe's creepy-looking contact lenses, I quite enjoyed their dramatic style of symphonic power metal. Philippe hit some great high notes à la Rob Halford, and was supported throughout the set by the beautiful operatic backing vocals of Ilaria Lucille De Santis, who looks and sounds remarkably like Simone Simons. The band did their job and warmed up the crowd for the other bands on the bill.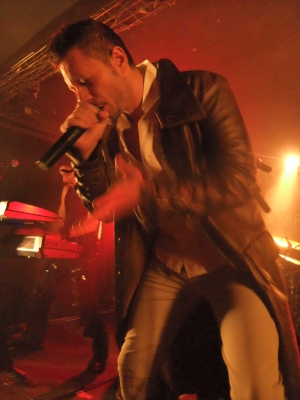 Next up was Fenrir, a local French band, who came out fully garbed in kilts and war paint and dove right into a set full of violin-heavy medieval metal supporting the soaring vocals of singer Elsa Thouvenot. You can never go wrong with heavy riffs and catchy melodies, and the band had the crowd moving ever so slightly (which is apparently a big deal in Europe). I, the American, ended up looking kind of like an idiot, banging my head and rocking out far more than anyone around me, but hey, that's everyone else's loss. That said, I was sufficiently impressed with Fenrir's set and later bought their album which my colleague Doctor T apparently already reviewed back in March.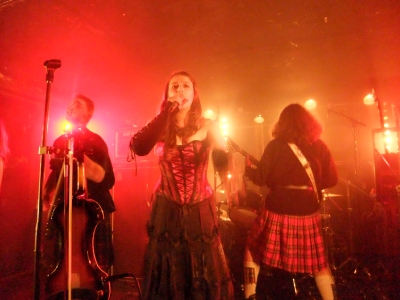 Setlist:
Metal Jig
Morrigane's Fury
The Battle of Stirling
The Tale of Taliesin
Thunder-cliff
Tristan and Iseult
Fenrir
I actually own Sarah Jezebel Deva's last two albums, but I don't think I've ever actually listened to them, which is a shame, because SJD put on a great show. Though she didn't move around very much, she still managed to have great stage presence, and despite the fact that she seemed a little sick, she sounded great. Looking back, her unique style of gothic metal wasn't really my cup of tea, but I enjoyed their set immensely at the time, and what kind of reviewer would I be if I didn't give them a second chance? I look forward to seeing her again at MFVF, and maybe this time I'll actually know the songs!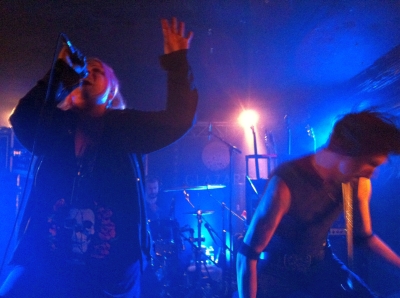 Setlist:
When it Catches Up With You
God Has a Plan For Us All
This is My Curse
Lies Define Us
Silence Please
I'm Calling
No Paragon of Virtue
And finally, Tristania. Though I really enjoyed their last album, Rubicon, and I like Mariangela's voice a lot, I admit I had my doubts about how the band would handle some of the older material, given that there is only one member of the original lineup. My fears were squashed immediately, as the first song they played was "Angina" from Beyond the Veil. Though she lacks the pure, airy quality of Vibeke's voice, Mary sang her part and hit the notes flawlessly, even giving the songs her own personal twist. She's actually quite a versatile singer, going from low and heavy to semi-operatic with ease. I was very impressed with her performance on "Beyond the Veil" and "Tender Trip on Earth," two of my favorite Tristania tracks. KjetilNordhus and guitarist Anders HøyvikHidle provided the clean and harsh male vocals respectively, and together the three vocalists harmonized and complimented each other through a mixed set of older and newer material. They even played a few completely new songs, "Requiem" and "Cathedral," which give us a taste of what to expect from the next album. They seem to have added a little more groove, but the general sound of it seems to be in the same vein as that of Rubicon. Personally, I'm looking forward to hearing more new stuff quite a bit and seeing where the band goes from here.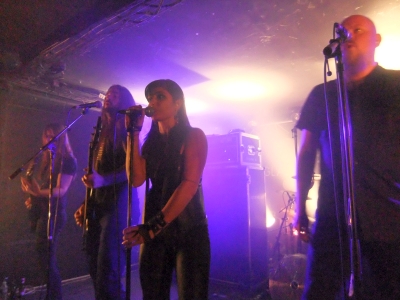 Setlist:
Angina
The Wretched
Requiem
Exile
Shadowman
Cathedral
Tender Trip on Earth
Beyond the Veil
Year of the Rat
Encore: Illumination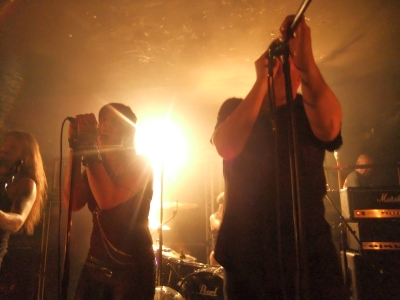 Overall, all four bands put on a fantastic show. My one complaint is that Tristania's set was a bit short, only an hour long. I would've liked to hear a few more songs, given that the band has such an extensive catalog and they're clearly capable of performing the older material. Even another song or two off of Rubicon would have been welcome, but maybe I was just sad to see their set end so soon!